President greeting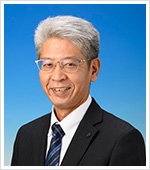 Thank you for your interest in Asahi Carbon Co., Ltd.
Our company was established in 1951 with an original technology to manufacture carbon black. This year we are celebrating our 70th anniversary. Through development, production and sales of tires, weather strips, wiper blades, seismic isolation rubber and a wide range of car parts and carbon black for coloring, we support our clients by ensuring abrasion quality, strength, elasticity and other characteristics important to them.
As members of the Bridgestone Group, we make use of our knowledge of manufacturing and high level of polymer development technology cultivated through a long period of time. At the same time that we continue to offer attractive and high quality carbon black products and services in order to respond accurately to even wider product needs, we not only improve the quality of customers' products but also serve to the operation efficiency of their production processes, improve their productivity and continue to offer carbon black products that generate a new value.
As well, in order to continue being a trust worthy corporation, we will improve the level of our overall CSR activities to increase the true power of our corporation, properly understanding company transformations and environment needs to respond correctly. Among this, it is necessary for us to aim to be a corporation without injuries and accidents worthwhile of working for and being proud of, every day we strive for a better workplace environment with each of us being responsible of compliance.
As for our environmental approach, we save energy through the re-use of by-products resulting from carbon black manufacturing and even supply carbon for low fuel consumption tires, and we contribute through several methods to reduce CO2 as a countermeasure against global warming. We also aim to live in harmony with our neighbors for which we will promote and strength our communication with the community.
We hope that you get to know Asahi Carbon through our home page.
Asahi Carbon Co., Ltd.
President
Hiroshi Yoshida